About us

Lenehans are famous for been a one stop shop for all things DIY. Now with the introduction of the www.lenehans.ie website you can now get over 16,000 DIY products delivered nationwide - Next Day !
In addition Lenehans are also famous for their range of Greenhouses. Having sold Greenhouses and Greenhouse accessories for decades, Lenehans are now one of the largest retailers of Greenhouses in Ireland.
With over 40 models and 100s of different options, at https://www.lenehans.ie/ you'll find the right Greenhouse at the right price.
Our website continues to grow from strength to strength. Our customers love us, simply because we stock such a wide range of DIY products at highly competitive prices and with super fast delivery guaranteed.
So if you're looking for a single screw, a box of 200, a Greenhouse or specialist cleaning products you'll find it online at https://www.lenehans.ie/.
We're proud to say we've been in business for over 150 years. We're 100% Irish owned and operated, employing local people, supporting local companies and making shopping for DIY easy for thousands of people every week across Ireland.
Next Day Delivery
We offer next day delivery nationwide on over 16,000 products. If it says it's in stock...and you order before 3pm, you'll have it next day. This is with the exception of Greenhouses (7-14 Days delivery) and Radiator Cabinets (3-5 Days delivery)
Awards
We're proud to have been a finalist in the Realex ecommerce 2016 awards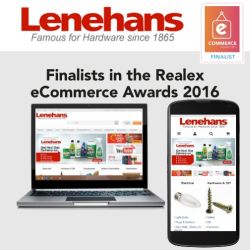 Other websites

New dedicated Greenhouse website coming soon...
Contact us
To contact us by phone - Call 01-8730466, by email: [email protected]
By Post:
Lenehans
124/125 Capel Street
Dublin 1
Any other queries, suggestions, or simply to say hello! please use the contact us form
Opening Hours
We are open
9am - 6pm Monday to Saturday
Find us
Lenehans 124 Capel Street, Dublin 1

Regestered address:
Thomas Lenehan & co Ltd
124 - 125 Capel Street
Dublin 1

Company number:
11013

VAT number:
IE 8Q48044E

EORI number:
IE0480448E


Lenehans Click & Collect Centre, Co Wicklow