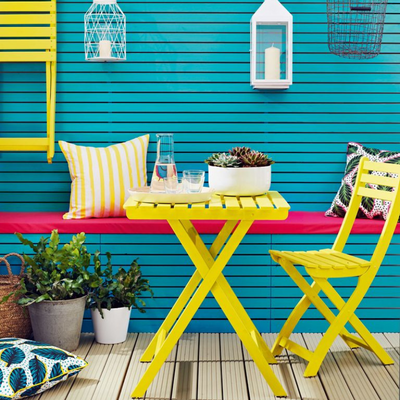 Your home and garden should be a personal area that you adore, so why not paint your outdoor furniture ? Not to mention that upcycling your furniture is a greener alternative to purchasing brand-new furniture. This activity is first and foremost a fun weekend project, additionally, it gives you the chance to customize your outdoor furniture with a special touch that you won't find anywhere else. So, for this blog, we're going to examine our best tips for painting your garden furniture.


You'll need the following items before you can start:
Your garden furniture of choice, for example, a garden bench, deck chair or table.
Top coat for outdoor furniture


We stock a large selection of Cuprinol Colours. Curprinol Garden Shades has been specially developed to colour and protect sheds, fences and other garden wood. Its special pigments ensure a rich colour and allow the natural texture of the woodgrain to shine through, its Long lasting protection for all types of garden wood

How much do you need :
1L covers up to:
Smooth planed wood:
Rough sawn wood


How to paint your garden furniture
Make a place clear before painting your furniture. In order to safeguard the perimeter around your garage and garden, you must make sure that there is a nice, open space there. Put dust covers over any priceless items nearby.
As preparation is essential, prepare your furniture by sanding it to a smooth sheen and removing any previous paint. For a DIY project like this, 220-grain sandpaper is a decent option.
Thoroughly dust off your furniture. Give your chosen furniture a thorough wipe clean with a moist cloth or microfiber cloth to get rid of any lingering dust. Keep in mind that your furniture will look more polished overall if it is cleaned.
4. Stir thoroughly, before and during use. Brush on product, evenly, along the grain.
5. Paint your furniture with one coat of exterior primer for outside areas, making sure that all of your strokes are directed in the same direction. Before moving on to the subsequent stage, let it dry. Cuprinol Garden Shades will be touch dry in 1 hour under normal weather conditions. Where a second coat is required, allow up to 8 hours in between coats. On areas subject to wear, such as garden furniture, allow a few days before heavy use or contact with soft furnishings.
Now that the preliminary work is finished, it's time for the exciting part: painting! Importantly, to guarantee that the finished product is polished, we advise taking your time during this phase and making sure that your brush strokes follow the wood grain. After painting the furniture, allow it to dry for a few hours until it is totally dry.
After that, add a second layer on top of the first, building it up evenly. As previously, take your time and wait until the surface has dried completely before touching it again.
8. This step is really an option, but it will assure the durability of your outdoor furniture for many years to come. To provide your furniture with a seal of protection, use a top coat of outdoor spray paint or paint.
9. Reseal can after use. Clean up spills while still wet. After use, remove as much product as possible from brushes before cleaning with water. Do not store or use in extremes of temperature and protect from frost.