Supreme Range of Greenhouses
SKU
LE_Supreme_Greenhouse
In stock Please allow between 20-30 weeks delivery on this Halls Greenhouse. This is due to raw Material shortages.
Supreme Greenhouses have elegant curves, a comfortable ridge height and a smooth action sliding door.
Double doors are standard on the larger 8' wide models.
Sizes Available: 4' x 6', 6' x 6', 6' x 8', 10' x 8', 12' x 8', 14' x 8'
Colours Available: Green, Silver
Glazing Available: Toughened Glass or Horticultural Glass
Simply select you preferred choices below to start building your greenhouse online.
The Halls Supreme range contains six classic elegantly curved models, designed to add style to any garden.
The new 8ft (2.57m) wide Halls Supreme combines established character and style with additional growing space.
Three models, from 10ft (3.20m) to 14ft (4.46m) in length have double doors for increased accessibility and a minimum of one roof vent for optimum ventilation. Ideally, pick the area with maximum sunlight and the greatest protection from the wind and ensure you choose the correct glass type to suit your position.
Available in Silver Aluminium or Forest green finish with an integral roof vent to afford plenty of ventilation with single sliding door.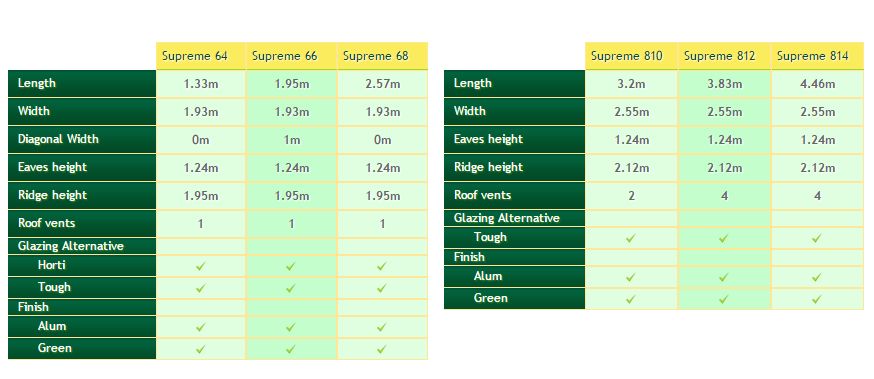 Frequently Bought Together
This Item: Supreme Range of Greenhouses
Customers Who Bought This Item Also Bought