In stock This Greenhouse is usually shipped in approximately 7-21 Days. However please allow up to 8 weeks due to high demand and restricted deliveries. Delivery is Free.
The Magnum is strengthened at the eaves and ridge by using cast iron joints as well as the actual ridge bar itself being constructed from thick box section. These strengthening features will keep the greenhouse rigid and square in strong winds.
The double doors and proper key lock give good access for a wheelbarrow or wheelchair and if you're carrying large trays of plants they come in very handy.
Sizes Available: 10' x 8', 12' x 8', 14' x 8'
Colours Available: Green and Silver
Glazing Available: Horticultural Glass, Safety Glass and Polycarbonate
Simply select your preferred choices below to start building your greenhouse online
The Magnum range is perfect for the keen gardener requiring a large growing area, with the largest model affording 11.5 m2. 
There is also extra height and increased accessibility, with additional height at the eaves, and double doors as standard. 
They incorporate integral guttering and easy clip–in glazing, cast joints at both ridge and eaves, together with a box-section ridge, while ventilation is via four roof vents.
Specification and Sizes:
| | | | | | | | |
| --- | --- | --- | --- | --- | --- | --- | --- |
|      Model |  Length  |  Width  |  Eaves  |  Ridge  | Door Opening   | Roof Vent   | Grow Area   |
| Magnum 108 | 3.22m | 2.57m | 1.48m | 2.58m | 1.16m | 4 | 8.3m2 |
|  Magnum 128  |  3.84m |  2.57m |  1.48m  |  2.58m  |       1.16m  |        4  |     9.9m2 |
|  Magnum 128  |  4.46m |  2.57m  |  1.48m  |  2.58m  |       1.16m   |        4  |    11.5m2 |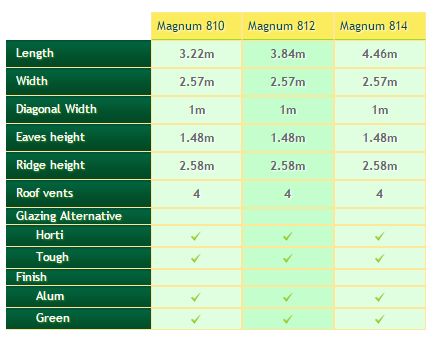 Frequently Bought Together
This Item: Magnum Range of Greenhouses