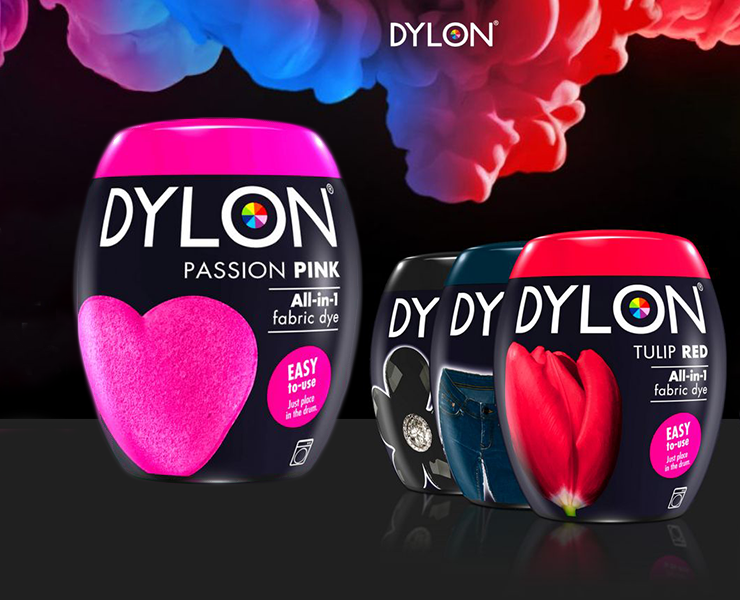 Have you an old pair of trousers or jeans? An old faded denim jacket? Don't want to throw them away but they've lost their lustre?
White tops and garments that are no longer a recognisable white?
Bring them back to life.
Revive them to the colour and shade that they once were or why not, transform them completely?
Revive faded colours to vivid colours or change one colour to an altogether new colour with Dylon Fabric Dye.
Dylon Machine Clothes Dye Pods really couldn't be any easier to use.
Put the item/s of clothing that you wish to dye into the washing machine.
Select the Dylon Machine Pod in a colour of your choice.
Peel open the label from the top of the pod.
Place the Dylon Machine Clothes Dye Pods into the washing machine drum with the item/s of clothing.
Put the machine onto a normal wash cycle.
It really is that simple!

What Fabrics Can Be Used
You can colour and dye almost any material of clothing or soft furnishing.
Dylon Machine Clothes Dye Pods are suitable for use on cotton, denim, linen and viscose.
The only material that it won't work well with is synthetic material, like nylon and polyester.
For simplicity and ease of use these Dylon Machine Pods really couldn't get much better.
For fabric dying quality the Dylon Machine Clothes Dye Pods are outstanding. As the machine pods will not dye synthetics, it does not colour any stitching or hemming. For example, if you colour a pair of jeans it will dye only the denim and leave the nice stitching detail as it was. In the same way, if you dye a school jumper that has a synthetic material emblem attached to it, the emblem will remain untouched as the rest of the fabric is coloured and refreshed to the colour of your choice. Patterned clothes also will most often retain their pattern.
But beware, as with most things when you mix one strong colour with a different colour it can result in a brand-new colour. For example, if you dye a bright red jumper with a blue dye the result can be purple. This problem can be resolved be using Dylon Pre-Dye to remove the original colour.
If you want clothes design made easy, check out the range of Dylon Machine Clothes Dye Pods.