Greenhouse Bases - Everything You Need To Know
If you're in the market for a greenhouse, one of the most important elements of this installation is the greenhouse base. Greenhouses require a fair amount of support, and the proper base will provide the strength needed to ensure solid construction.
Essentially, a greenhouse base consists of four edges with a hollow interior. However, it's more complicated than that, especially when you get into different designs. This article will examine the different types of greenhouse bases and what they're best made for.
A Solid Greenhouse Base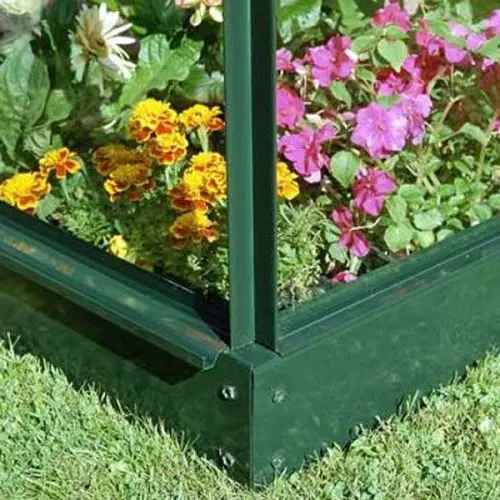 The basics of a secure and safe base in order to support the structural frame of the greenhouse:
Remember, a greenhouse has a lot of weight pressing down and a large glass surface that receives wind like a sail. In both ways - pressure downwards or sideways - it needs to be secure and safe!
Some greenhouses come with an integral base, meaning that they are part of the frame when installed, while others have optional bases for an additional cost.
The following greenhouses do not have a base as standard and are an optional extra:
The Popular Range, The Wall Garden, The Magnum, and The Supreme
In the majority of cases, a greenhouse is purchased for growing plants directly into the existing soil. Therefore the support for the base will correspond to the dimensions of the frame and will not cover the entire area under glass.
Concrete Base
Concrete blocks are laid lengthways (on their sides) on a mixture of sand and cement (concrete) filled trench. The standard builders block is 9" high when laid like this. This raises the height of the greenhouse by the same amount. That's too high, especially at the entrance. However, the block can be lower than the ground level within the trench and held there by a sand and cement mixture.
Alternatively, a brick can be used instead of regular blocks. They come in two types, concrete stock brick or redbrick. In this case, the extra height is about 3 - 4" over ground level depending on which side it is laid, and this is normally satisfactory. These can be laid so that they are finished to ground level. With care, a very acceptable appearance can be achieved.
Whether there is an integral base, an optional base, or no base at all, Lenehans recommends employing a sand and cement mixture with bricks or blocks. As previously noted, it is essential to secure the greenhouse from movement of any sort, whether subsidence or wind.
Metal Base
In some cases, a greenhouse with a metal base (integral or otherwise) can be fixed directly to the ground. Any solid, flat, level surface will suffice.
Get Your Greenhouse Ireland Style
At Lenehans, we have additional options for your greenhouse construction, including covers, gutters, and other components to complete your project. You can find our selection of greenhouses and accessories here.
FAQ
Q1 - How do you build a base for a greenhouse?
Inspect the soil for compaction, levelness, and screed off with pea gravel or sand. The slabs can then be either dry (without any mortar) or wet (using blobs of mortar at the corners and one in the middle of each slab)
Q2 - Where shouldn't a greenhouse be placed?
A greenhouse shouldn't be positioned beneath any tall trees since this will significantly restrict the amount of sunshine that reaches your plants. When the glass becomes stained with sticky pollen and bird droppings, the situation grows even worse.
Q3 - Where can I buy a greenhouse in Ireland?
Lenehans are famous for their range of Greenhouses and have been selling them for decades. Now you can configure and build your greenhouse online with Lenehans. Simply select a model. Then select a size and colour and finally select your preferred glazing choice. That's it. Simple.
From the Venus range of greenhouses to the Gardener range delivery is free on All Greenhouses
Lenehans sell the full range of Eden Greenhouses including the new Eden "Zero Threshold" range. In addition we also sell the full range of Vitavia Greenhouses
Q4 - Do You Provide A Greenhouse Installation Service?
Yes, we do. We can organise a greenhouse installer to contact you and to give you a separate price. (Please note: This is for the Vitavia Range of Greenhouses) At present we are unable to provide an installation service for The Halls / Eden Range. We would recommend a local builder who should be able to provide you with a quote for both groundwork and installation.

If you are availing of installation for the Vitavia range, please note: Groundwork must be completed and the installer will only erect the Greenhouse on a fully prepared and flat site.
Call us on 01-8730466 or email us at customerservices@lenehans.ie for more information
Resources
https://www.lenehans.ie/greenhouses.html
https://greenhouseemporium.com/blogs/greenhouse-gardening/greenhouse-foundation/